Flash Spot Dryer - $15.00/Hour | $45.00/Day
Used in the screen printing industry for drying ink to prevent bleeding and allow another color to be applied over it.  Our Flash Dryers provide consistent heat radiation over the entire element surface ensuring every print is properly flashed or cured.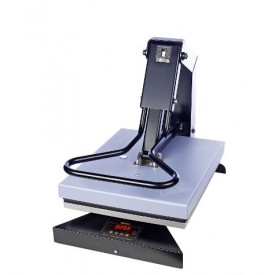 Manual Heat Press - $15.00/Hour | $45.00/Day
Our Manual Heat Presses meet the demands of today's busy retail environment and are also a practical solution to use as a pre- and post-curing agent for the expanding digital direct-to-garment marketplace.  Delivers consistent temperature and results all day long.  Its 15"x20" platens are perfect for printing large decorative graphics, as well as, most other T-Shirt applications.

MBX Metal Blaster (Wheel Not Included)
$14.00/Hour | $36.00/Day
MBX® Metal Blaster® is a unique, easy handling, fast performing power hand tool used in the sign and automotive industry to remove vinyl graphics.  It can also be used in the screen printing industry to remove old fabric and adhesive to prep the frame.
Wheel must be purchased separately from the rental of the MBX Metal Blaster Tool.  Temper Steel Bristle Wheel or Polymer Rubber Eraser Wheel are available and should be selected based upon your application.

Spot Cleaning Gun w/Solution (16 oz. Jar)
$10.00/Day (On Site) | $25.00/Day (Off Site)
Used for cleaning screen printing inks from printed garments.  One 16 oz. jar of cleaning solution is provided with the rental.  Additional solution will incur additional charges.

Please note, this equipment sprays out solution at 3000 PSI.  The customer must provide their own PPE (Personal Protective Equipment) and follow all safe use procedures when handling this equipment.
Stretcher Table - $25.00/Hour
Used to stretch your mesh over the screen frame in order to keep it taut and free from imperfections.  The low friction, 4-way simultaneous tensioning on the Newman Roller Master™ combined with a 3 minute holding stress, is equivalent to approx. 7 to 10 retensionings.  Retensioning mesh with the Newman Roller Master™ after the 1st print run and reclaiming, combined with a 1 minute holding stress is equivalent to approx. 3 - 4 retensionings.
Printer/Dryer (Includes Printer, Dryer and Spot Dryer)
$35.00/Hour
Basic screen printing package of equipment that you would need to screen garments.  Includes a printer with 4 stations capable of screening up to six colors per garment, a spot dryer for drying inks between screening of different colors, and a full dryer for finishing the curing of the entire garment.

Exposure Unit Package (Includes Use of Exposure Unit, Light Table, Screen Dryer & Screen Washout Booth)
$25.00/Hour
Used for the process of creating your screen and then cleaning it once done.

Please Note!
All customers using the rental area are required to bring their own supplies, rulers, tape, paper towels, squeegees, scoop coaters, scissors, etc.